Free Comic Book Day is Back and we're gonna have another great year!
Saturday May 6th, 10am to 5pm at Dave & Adam's!
In addition to all the great Free Comics we'll have, we will also have some local artists, and some artists all the way from Syracuse! Plus we'll have some comic and toy vendors attending this year! Superheroes will be joining us as well! Stay tuned to our social media for updates on guests and some exclusive products we'll have available!
Update 3-14-23
Free Comic Book Day Guest Announcement!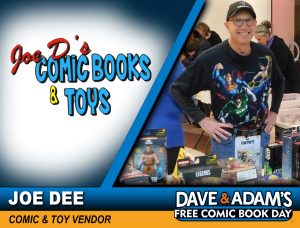 We are very excited to have some vendors here this year at Free Comic Book Day. Joe Dee will be joining us! Joe put's on 2 Comic & Toy show's a year to raise money for the Variety Club. He'll have
Star Wars & Superhero Action Figures, Video games, Comic Books, & Hot Wheels available to purchase!
Update 3-13-23
Free Comic Book Day Guest Announcement!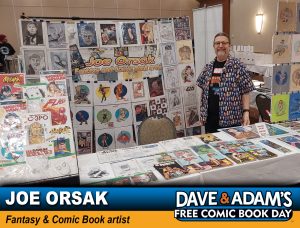 We are very excited to have Syracuse artist Joe Orsak joining us!
Joe Orsak was inspired to become a comic book artist at the age of eleven by the artwork of JOE SINNOTT in TREASURE CHEST and JOURNEY INTO MYSTERY. In 1982 Orsak launched a comic strip in the newspapers of Syracuse, NY, THE ADVENTURES OF CAPTAIN 'CUSE. The strip ran weekly for eight years. Joe turned to sports comics in the 1990s, working on bios of MICKEY MANTLE, BROOKS ROBINSON and DUKE SNIDER for MAGNUM COMICS. These books gave Joe the chance to work with his inspiration… Orsak's pencils were inked by Joe Sinnott!
In 2001 Orsak was picked by his friend ROGER STERN to pencil and ink a two-page tale for the 9-11 tribute book 9-11ARTISTS RESPOND for DARKHORSE.
In 2008 he returned to comic strips with SALT CITY, another strip about his hometown, this time with a female superheroine, written by Douglas Brode. The comic strip drew the attention of people at MCFARLAND and Co., who asked Joe and Doug to launch their line of graphic novels. Joe and Doug created YELLOW ROSE OF TEXAS the Myth of Emily Morgan and VIRGIN VAMPIRES for MCFARLAND Inc.
Joe is now working with AHOY Comics doing spot illustrations in THE WRONG EARTH. PLANET OF THE NERDS and DRAGONFLY & DRAGONFLYMAN and MY BAD and is involved with new comic book projects for STELLAR COMICS. He also does sports artwork and will have a limited selection at his table, including hand painted baseballs and pucks. More of Joe Orsak's artwork can be found at his website… jorsak.com
Update 3-11-23
Free Comic Book Day Guest Announcement!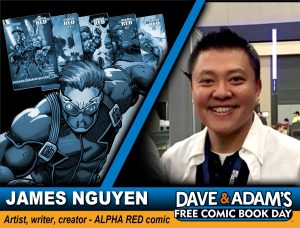 We are very excited to have artist
 James Nguyen
joining us!
James Nguyen is a comic book creator who has been published in independent books such as Atomic Robo and the F.U.B.A.R. zombie anthology. He's also worked with Upper Deck on sketch cards for Marvel properties. James just wrapped up his five-issue creator-owned comic book, Alpha Red and is excited to debut the final chapter at FCBD 2023!
Update 3-10-23
Free Comic Book Day Guest Announcement!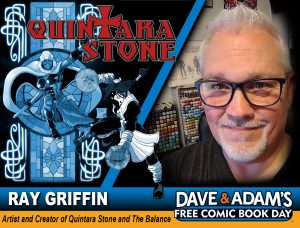 Ray Griffin The Artist and Creator of Quintara Stone and The Balance. Ray is a Local Buffalo, NY artist. We are very excited to have Ray back for Free Comic Day! He'll have copies of his book to sell and sign. And some art prints as well!
Update 3-7-23
Free Comic Book Day Guest Announcement!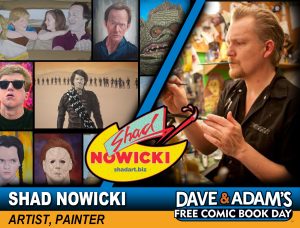 We are very excited to announce that, the most excellent artist, Shad Nowicki will be joining us again for Free Comic Book Day this year! He will have a variety of prints available of his paintings as well as a display of original paintings. If you'd like to take a look at Shad's work you can see it at his website shadart.biz