Free Comic Book Day is Back and we're gonna have another great year!
Saturday May 6th, 10am to 5pm at Dave & Adam's!
In addition to all the great Free Comics we'll have, we will also have some local artists, and some artists all the way from Syracuse! Plus we'll have some comic and toy vendors attending this year! Superheroes will be joining us as well! Stay tuned to our social media for updates on guests and some exclusive products we'll have available!
Update 5-1-23
Free Comic Book Day Guest Announcement!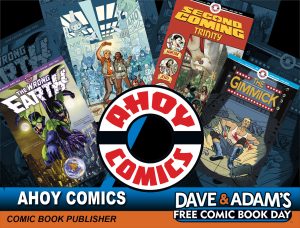 AHOY Comics, Local comic book publisher.
Ed Cato, representative of AHOY Comics will be joining us!
Ahoy Comics is an American comic book publisher. It was founded in 2018 by publisher Hart Seely, editors Tom Peyer and Stuart Moore, and chief creative officer Frank Cammuso. At its launch, Ahoy sought to distinguish itself from other comics publishers by including additional "backup material" in each periodical issue, such as prose and poetry features.
AHOY considers themselves the Home Grown comic publisher of CNY.
We are looking forward to having Ed here to share what AHOY Comics is all about!
Update 4-27-23
Free Comic Book Day Guest Announcement!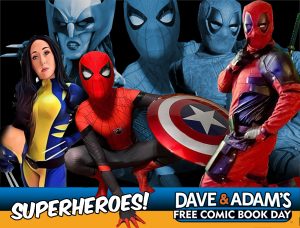 SUPERHEROES!
Free Comic Book Day would not be complete without a visit from a friendly neighborhood SUPERHEROES! We know for sure we'll see our friends in the picture… but ya never know who else might show up!
Update 4-19-23
Check out our FCBD 2023 Marvel Autograph Card Edition! Releasing on Free Comic Book Day May 6th!

Every box contains:
1 (One) Marvel Autographed Card from Movies or Television Series
Only 100 Hand Numbered Boxes Produced!
2023 Free Comic Book Day Marvel Autograph Card Edition – Series 1 is headlined by:
2015 Fleer Retro Marvel: Storm Red Blaster PMG PSA 7
Spider-Man Homecoming: Jacob Batalon as Ned Autograph and Patch Relic
Doctor Strange – Black Diamond: Tilda Swinton as the Ancient One Autograph Diamond Plate #/49
This edition is loaded with Marvel Universe history, lore and, of course, infinite characters. Featuring autographs from Agents of S.H.I.E.L.D., Doctor Strange, Captain Marvel, X-Men, Daredevil, Thor, Agent Carter, Spider-Man, Cloak and Dagger, TheRunaways, The Defenders, and more!
Find autographs from:
Elden Henson
Hannibal Buress
Remi Hill
Kenneth Choi
Christine Adams
Brett Dalton
Maceo Smedley
Jamie Harris
Abraham Attah
Laura Harrier
Tony Revolori
Ally Maki
Bob Gunton
Vondie Curtis-Hall
Danielle Campbell
Update 3-27-23
Free Comic Book Day Guest Announcement!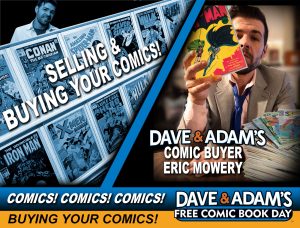 Dave and Adam's Comic Buyer Eric Mowery will be joining us! He'll have a display of comics for sale AND he'll be paying CASH for your comics! If you have a collection of comics you are looking to sell, bring them in and see what Eric can do for ya!
Update 3-25-23
Free Comic Book Day Guest Announcement!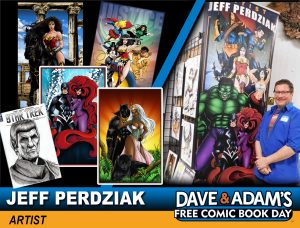 So yeah… our "In-House Hit Parade Artist" Jeff Perdziak will be setting up for Free Comic Book Day! Jeff will have all of us Superhero art with him, original art as well as a variety of prints. Jeff will also have some of his Hit Parade art on display! You all may have see some of it pop up on his social media pages. Helmets, baseballs, and sketch cards. Come see what it's all about!
Update 3-24-23
Free Comic Book Day Guest Announcement!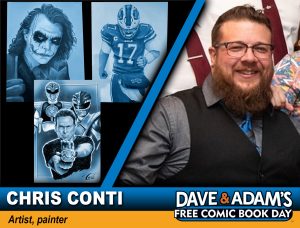 Chris Conti is another one of the great artists here in Buffalo NY! He's done some outstanding Pop Culture artwork over the years. AND as you can see from his picture… he loves the Bills too! We are excited to have Chris with us this year at Free Comic Book Day!
Update 3-24-23
Free Comic Book Day Guest Announcement!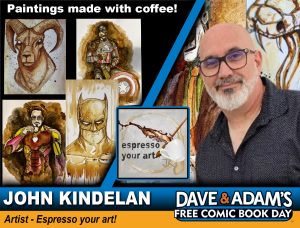 John Kindelan "Espresso your art!"
John is THE Coffee and Pop culture artist of Buffalo! That's right! Coffee!
 John's coffee paintings are the best in Buffalo. Using actual coffee to paint his drawings on canvas are a unique and fresh take on the pop culture art.  
We are very excited to have John with us this year for Free Comic Book Day! He will have some amazing paintings with him as well as art prints.
Update 3-22-23
Free Comic Book Day Guest Announcement!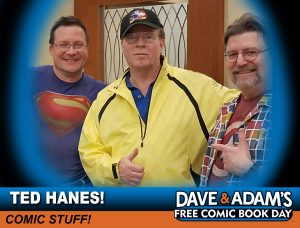 We are excited to announce Ted Hanes will be joining us this year! Ted is a WNY comic enthusiast and show promoter! Ted's done comic shows from Buffalo to Syracuse! You've most likely attend one of his shows if you are out and about at local comic shows! Ted will have some cool comic items available. We are excited that he has chosen to celebrate Free Comic Book day with us!
Update 3-20-23
Free Comic Book Day Guest Announcement!
The artistry of toys!  

Dennis Glinski is an artist and creator of Weird, Fun, Silly, Classic Toys. All his toys are One-of-a-Kind Custom Creations. They are made to look like a toy or item that would have been available back in the 1970s -80s. Some are modified items, where others are completely unique sculptures. And Pop Art paintings are always added to his resume. Dennis is also a Artist/Writer/Publisher of Comic Books. With Horror tiles for mature readers and Fun Comics for children of all ages.
Come meet Dennis and see what his "TOYDEN" has to offer!
Update 3-17-23
Free Comic Book Day Guest Announcement!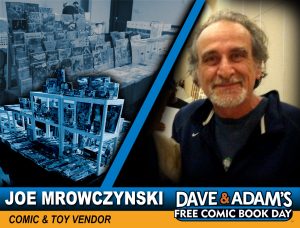 We are excited to announce another local vendor, Joe Mrowczynski! You all may have seen Joe around town, he does a lot of local shows!
Joe will a variety of vintage toys and comics available.
Update 3-14-23
Free Comic Book Day Guest Announcement!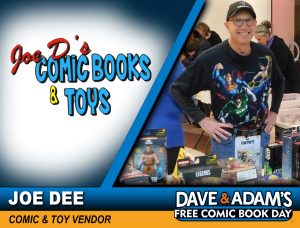 We are very excited to have some vendors here this year at Free Comic Book Day. Joe Dee will be joining us! Joe put's on 2 Comic & Toy show's a year to raise money for the Variety Club. He'll have
Star Wars & Superhero Action Figures, Video games, Comic Books, & Hot Wheels available to purchase!
Update 3-13-23
Free Comic Book Day Guest Announcement!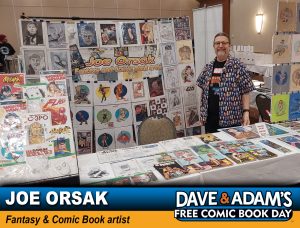 We are very excited to have Syracuse artist Joe Orsak joining us!
Joe Orsak was inspired to become a comic book artist at the age of eleven by the artwork of JOE SINNOTT in TREASURE CHEST and JOURNEY INTO MYSTERY. In 1982 Orsak launched a comic strip in the newspapers of Syracuse, NY, THE ADVENTURES OF CAPTAIN 'CUSE. The strip ran weekly for eight years. Joe turned to sports comics in the 1990s, working on bios of MICKEY MANTLE, BROOKS ROBINSON and DUKE SNIDER for MAGNUM COMICS. These books gave Joe the chance to work with his inspiration… Orsak's pencils were inked by Joe Sinnott!
In 2001 Orsak was picked by his friend ROGER STERN to pencil and ink a two-page tale for the 9-11 tribute book 9-11ARTISTS RESPOND for DARKHORSE.
In 2008 he returned to comic strips with SALT CITY, another strip about his hometown, this time with a female superheroine, written by Douglas Brode. The comic strip drew the attention of people at MCFARLAND and Co., who asked Joe and Doug to launch their line of graphic novels. Joe and Doug created YELLOW ROSE OF TEXAS the Myth of Emily Morgan and VIRGIN VAMPIRES for MCFARLAND Inc.
Joe is now working with AHOY Comics doing spot illustrations in THE WRONG EARTH. PLANET OF THE NERDS and DRAGONFLY & DRAGONFLYMAN and MY BAD and is involved with new comic book projects for STELLAR COMICS. He also does sports artwork and will have a limited selection at his table, including hand painted baseballs and pucks. More of Joe Orsak's artwork can be found at his website… jorsak.com
Update 3-11-23
Free Comic Book Day Guest Announcement!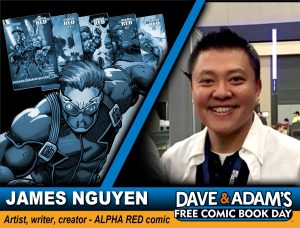 We are very excited to have artist
 James Nguyen
joining us!
James Nguyen is a comic book creator who has been published in independent books such as Atomic Robo and the F.U.B.A.R. zombie anthology. He's also worked with Upper Deck on sketch cards for Marvel properties. James just wrapped up his five-issue creator-owned comic book, Alpha Red and is excited to debut the final chapter at FCBD 2023!
Update 3-10-23
Free Comic Book Day Guest Announcement!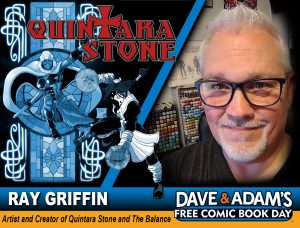 Ray Griffin The Artist and Creator of Quintara Stone and The Balance. Ray is a Local Buffalo, NY artist. We are very excited to have Ray back for Free Comic Day! He'll have copies of his book to sell and sign. And some art prints as well!
Update 3-7-23
Free Comic Book Day Guest Announcement!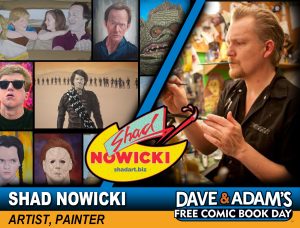 We are very excited to announce that, the most excellent artist, Shad Nowicki will be joining us again for Free Comic Book Day this year! He will have a variety of prints available of his paintings as well as a display of original paintings. If you'd like to take a look at Shad's work you can see it at his website shadart.biz